Most advanced computer users know about speedtest.net that helps testing your internet bandwidth. While it is a great tool, it has only flash version available on their web site and there are Android and iOS apps for your mobile phones, but there were no tools available for Linux servers without GUI.
Back in 2009 I made a PHP script that tested network speed, wrote the results to text file and generated PNG graphs to be shown on web. It used speedtest.net partner servers and it got the data usage from ifconfig thus making it read the total bandwidth, not just what had been left for the php script itself. I set it up on my home router so I could prove my ISP that their internet is far form what they advertised.
I also uploaded it to Sourceforge and forgot about it's existence for some time.
Years have passed and it has been downloaded almost 17 000 times, even though it doesn't really work in every case and it wasn't that easy to set up.
So I figured I should make a new version, written in Python (just to practice it), and so I did.
The new Tespeed is available at Github: https://github.com/Janhouse/tespeed
It is licensed under MIT license.
There are still some bugs and planned features left to sort out, but after testing it on multiple computers it is working fine.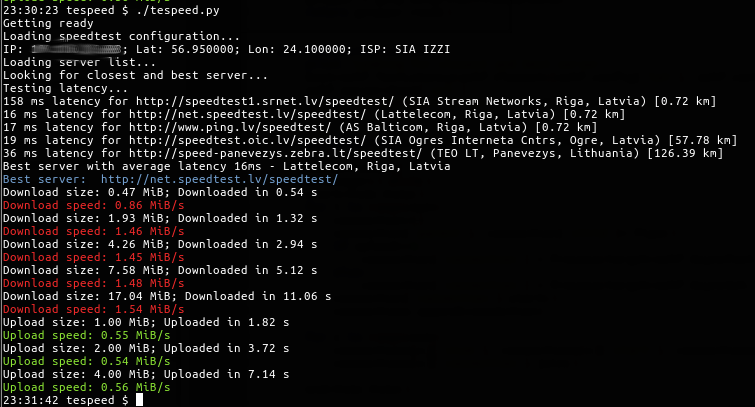 The new version finds closest servers and then picks the one with lowest latency.

You can also get a list of all available servers (and see the approximate distance to them) by using list-servers command.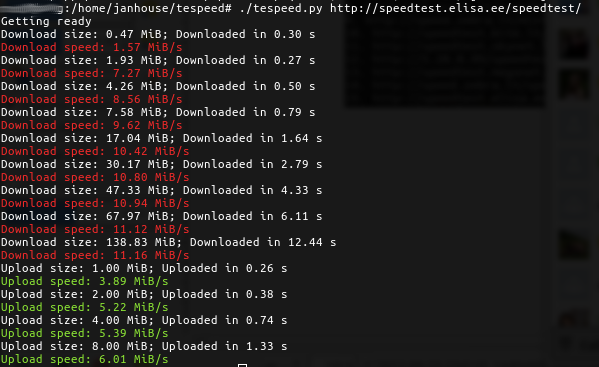 Please send me some feedback so I could make it better.
And go thank speedtest.net for this great service. 🙂